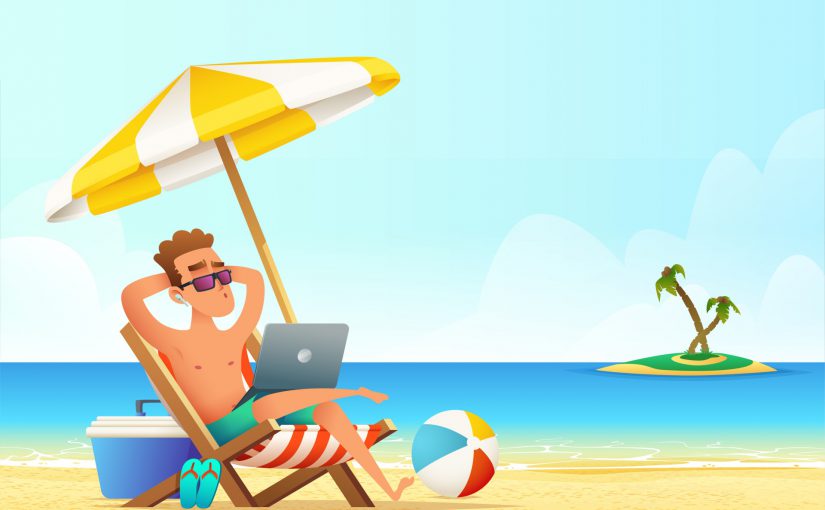 What Does it Mean to Work Remotely
For many professionals looking to start their remote careers, there's one thought holding them back – what will remote work really look like? It's only reasonable to be afraid that the lifestyle may not appeal to you. In fact, as wonderful as remote work is, it's definitely not for everyone.
Here's the first-hand experience on what it means to work remotely so you can tell if it's the lifestyle for you or not.
You'll Work More than You Thought
When starting their first remote job, many people think that it's fun and games and that for the most part, they'll be doing anything other than work. In reality, remote employees work just as much, and in many cases, a lot more than those who sit in an office.
As it's hard to set apart your working environment from that where you rest and have fun, the opposite of slacking happens. Many remote workers end up doing work-related tasks far beyond their working hours so that an 8-hour work day easily becomes 10 hours.
You'll Get to Work for Great Companies (or Yourself)
As you begin looking for your new (or first) job, you'd open a job board website and start browsing through open positions. Immediately, you'll disqualify those which are hundreds of kilometers away, unless you're willing to move for the job. However, who's guaranteeing that you will like the job once you make such a big move? In the end, this is far too risky of an endeavor, so you settle for local jobs.
When working remotely, you are only limited by your own self. You can work for companies from different cities, countries, continents and time zones. If you're just starting out, you may not realize that benefits this bring, such as…
More choice in jobs

Better paid jobs
More interesting fields of work
More chances to learn
Alternatively, you can go the freelance route and work for yourself. Once you've gained certain experience, working as a freelancer is a great option if you want to have more freedom. However, first ensure you have a stable source of income (steady paying clients on retainer), before you venture into freelancing. Also, be sure you're familiar with the ins and outs of freelancing (finding and pitching clients, sending proposals, etc.)
You'll Have More Free Time
Before I started working remotely, I worked in a city about half an hour away from me. This meant about an hour a day of driving every day that was essentially lost in commuting. I could have spent the hour drinking coffee, playing tennis or learning. It was not until I was gifted this time that I realized that I have a full hour extra every day to do anything I want. That's 5 hours a day, 20 hours a month.
A large amount of time that I could spend in any productive way that I wanted. Thanks to working remotely, many people regain hours every month that they waste in travelling to and from their office. I was on the lower end of the scale too, as people who commute in larger cities across the globe have to struggle through hours of traffic daily.
Moreover, the 30-minute break meant that I could hop by the kitchen and make myself something healthy to eat, instead of stopping by at the fast food joint near the office and heading back – and almost never making it back in 30 minutes. Speaking of food…
You'll Save Money
Naturally, by not spending money on gas, I was able to save considerable amounts in just a few months. However, there was another cost that popped up – food and drinks. As I was in the office, I bought coffee and lunch.
Just like hours spent sitting in traffic, it piles up over time. Adding up the amounts I spent every day, it turned out that I was spending hundreds of dollars every year on snacks and drinks which I nowadays keep handy at home.
I used the money for my hobbies and to buy some gifts for the people I love. If you're working from the office at the moment, take a good look at your everyday spending and you'll find out just how much you can save.
You'll Be Alone… Quite a Lot
The harsh reality is that most remote workers spend large amounts of time on their own. Even though there are co-working spaces, coffee shops, the great outdoors and the freedom to work from anywhere you want, the vast majority of people employed remotely function on their own, in the privacy of their home.
If you're the type of person who loves the clamor and noise of an office, working remotely may be pretty difficult for you. A few years back as I first started, the most annoying thing was the silence as I started working. There's no one to chat with, discuss work, drink some coffee… It gets quite lonely if you don't find ways to cope. Over time, I've started communicating more with colleagues through Skype and Slack and didn't feel as left out as before.
There are Times when You Won't Be Alone… Unfortunately
Ask a remote worker about their biggest problem at work and many will say that it's productivity that's taking a hit since they moved from the office. The biggest culprit are distractions, and there's quite a few if you're working from home.
One of my personal biggest problems is that I live with my family, and in the beginning, it was difficult to explain the concept of remote work. This means that I would regularly get interrupted as I work with requests to help, someone asking me to do something, and in general, it was very difficult to remain focused. Colleagues who have children have had even bigger challenges being left alone for a few hours a day to finish their ongoing tasks.
Are you looking to start working remotely? We know that it's hard to find a great job board aimed specifically at remote workers. This is why we started Anomadic, a place to connect reputable companies with employees looking for remote work. Join us today and find your dream remote job!